About Us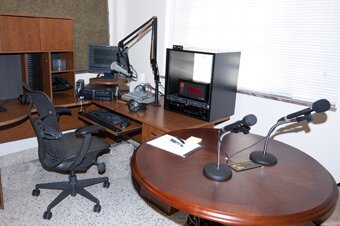 KCNP is the community radio station owned by the Chickasaw Nation. KCNP first went on air in the fall of 2009.
The station broadcasts from Ada, OK, with a 3.5 kilowatt transmitter 1600 feet above sea level. KCNP covers central and southeastern Oklahoma on FM station 89.5. KCNP can also be heard online worldwide at kcnpradio.org.
OUR MISSION
The mission of KCNP-FM is: To enlighten, educate, and entertain our listeners with quality radio programs.
In order to achieve our mission we are committed to provide programs and music to entertain, educate, enlighten, and engage our listeners 24 hours a day, 365 days a year.
Our programming includes a variety of music as well as programs and information that cover Chickasaw and Native American issues as well as local, state and national news. We also report on news, weather and sports of the communities and schools within the 13 Oklahoma counties located in the Chickasaw Nation.
On a regular basis, we interview a variety of experts who cover topics like: home safety, personal money management, health and wellness, art, cultural awareness, community activities, environmental stewardship, gardening and landscaping, and much more.
KCNP is a member of the National Federation of Community Broadcasters and the Oklahoma Association of Broadcasters.
OUR STAFF




Click on an image.
Brian Brashier

Brian's first radio job was at KPLT in Paris, Texas while he was in high school. Upon graduation from the University of Texas, he became a television weather anchor and news reporter at KTEN-TV, then a weather anchor at KWTX-TV in Waco, TX.

Brian has worked in radio and television production, reporting, sales, and now serves as the manager of KCNP. In addition to severe storm chasing and reporting, he loves to fish with friends, and travel with his wife of eighteen years, Sheilla, and spend time with their daughters, Brealyn and Shann.

Mike Manos

Mike Manos started in radio at KADA in Ada as the weekend announcer and since that time has also worked in radio in the communities of Sulphur and Ardmore and joined KCNP in 2010. In addition to his normal radio duties, Mike is also very proud to be the radio voice of East Central University Tiger football, a job he has held since 1997.

In his spare time, Mike enjoys playing golf, checking out sporting events and concerts and spending time with family and friends.

Mike's proudest achievements in life are his children Jennifer and Don and his granddaughters Kennedy and Karma.

Tishia Agee

Tishia graduated from East Central University and began her radio career in 1990 and has worked at the following stations:

KADA-FM/Ada, OK
KTCS/Fort Smith, AR
KXXY/Oklahoma City
KKNG/Oklahoma City




Tishia joined KCNP in 2011 as the Radio Production Coordinator.

Music is her great love - talking about it, listening to it, making it. She also has a passion for classic films, particularly of the 1930s and '40s. She's always thrilled when she gets to see them in a beautiful theater like the McSwain. Tishia also announces and sings at the Rodeo Opry in Oklahoma City, and, occasionally, works as a ring announcer at pro boxing events. Other pleasures include road trips, cooking, the outdoors, and reading. But most of all, she enjoys spending time with family.

Tom Brannan

Tom Brannan came to love the Big Band and Swing music on his parent's old 78 rpm records. He started collecting records when he was 6 years old.

Tom studied piano and played trombone in various band ensembles in high school and college.

He began his radio career briefly at KTEN- FM in 1974. In November of 1974 he moved to KADA-am in Ada, Oklahoma, while attending East Central University.

During his time at KADA he met and interviewed several legendary personalities: Harry Mills of the Mills Brothers; Ralph Brewster of the Modernaires; Les Brown, Stan Kenton, Kay Starr, Helen O'Connell, Ginger Rogers, Frankie Laine and others.

After graduation he returned to Marietta, Oklahoma and resumed his radio career in the Ardmore, Oklahoma market until late 2007. Tom is the host of Brannan's Big Bands on KCNP each Friday at 9am and Sunday at 6pm.